Kutsinhira Status: CLOSED
Due to Governor Brown's order on November 13 for a statewide two-week freeze, Kutsinhira will remain closed through at least December 2. After that, Kutsinhira will reopen to in-person programming only once our own COVID-19 related criteria are met.

Dedicated to the music and people of Zimbabwe
kutsinhira… to follow one who has cut a path, tilled the soil, put forth a musical phrase. In Zimbabwean musical tradition, a melodic line that responds to the lead line of an mbira song.
Kutsinhira Cultural Arts Center…a community of people in and near Eugene, Oregon, responding to the rich musical tradition of the people of Zimbabwe by creating a center for teaching and performing Zimbabwean music. Kutsinhira Cultural Arts Center is a non-profit organization founded in 1990. Kutsinhira offers classes in Zimbabwean marimba and mbira, and organizes lessons and workshops with visiting Zimbabwean master musicians.
Embroidered folk art by Grace Chaka.
Price: $70
read more
Chapwititi's Newest Song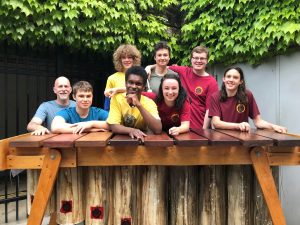 We at Kutsinhira Cultural Arts Center deeply mourn the great mbira player Sekuru Cosmas Magaya, our long-time teacher and friend, who died on July 10, 2020, after contracting COVID-19. To honor his accomplishments and devotion as an educator, musician, friend, village head and family head,  Kutsinhira has established a memorial fund in his name, the Cosmas Magaya Memorial Fund.