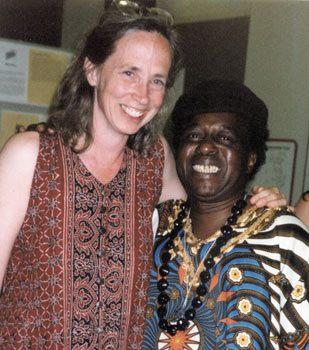 Gary Spalter
Like many of us, Gary was hooked to the music the first time he heard it, over 30 years ago. He has played marimbas since 1992 and taught as a teacher since 1994 through the Kutsinhira Cultural Arts Center. He enjoys teaching at all levels and has been recognized by many students as a patient and effective teacher. Gary is a founding member of Zambuko, a performing ensemble in Eugene, has played with Shumba of Eugene, and was director of the Hokoyo and Chapwititi youth ensemble. Gary recognizes one of the greatest gifts of the music to be when an aspiring player lights up with the joy and thrill of playing this amazing music from Zimbabwe.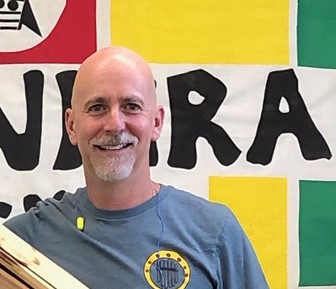 Wanda Walker
Wanda Walker has taught marimba at Kutsinhira Cultural Arts Center in Eugene, Oregon since 1999, privately since 2002, and at the Zimbabwean Music Festival (Zimfest) since 2003. She performs with Kutsinhira marimba ensemble Jenaguru, as well as Mudzidzi mbira group. Wanda has studied mbira, singing, dance, drum, and marimba with many Zimbabwean musicians, including Cosmas Magaya, Musekiwa Chingodza, Ambuya Beauler Dyoko, Chartwell Dutiro, Sheasby Matiure, Patience Chaitezvi Munjeri, Irene Chigamba, and Paul Mataruse. Wanda has arranged several traditional mbira songs for marimba and has developed a fondness for teaching young people.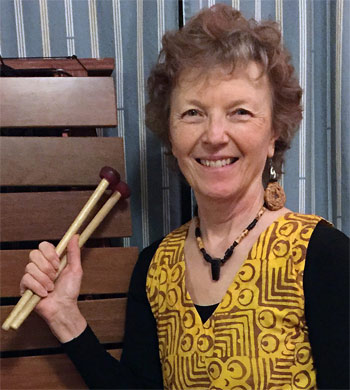 Caleb Donahue
Caleb began learning to play the marimba in an elementary school music class in 2009, and has been playing ever since. He has played in numerous classes and ensembles throughout his time at Kutsinhira. Currently, he performs with Mhondoro, a long-standing ensemble, Chapwititi teen ensemble, and Kudana, a Eugene band. Recently, Caleb has begun teaching his own class at Kutsinhira. He firmly believes that anyone can learn this music with enough motivation and practice. He really enjoys teaching newer students and seeing the excitement on their faces as they experience the music of Zimbabwe.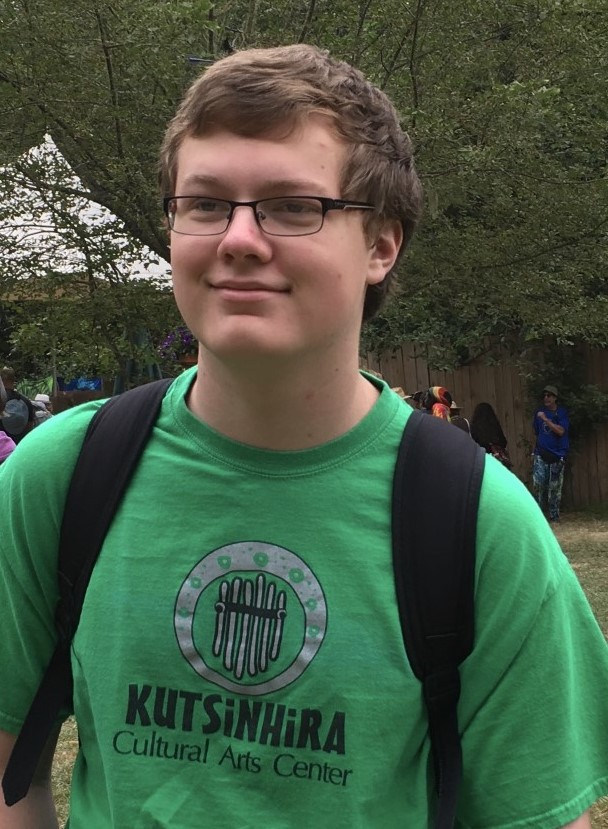 Eli Calalang-LaCroix
Eli developed a love for Zimbabwean music during a childhood spent in and around the Kutsinhira Center, playing marimba and hosho in classes and ensembles nearly as far back as they can remember. They went on to begin the journey of learning mbira in college. After graduating, they joined Kudana and returned to Kutsinhira as both a teacher and student. They can also be seen as a guest singer and hosho player for other performing groups. Alongside instrumental work, they are particularly interested in learning and incorporating traditional singing into their performance and teaching. Eli is honored to teach and perform alongside their teachers, and to share the unique joy this music has brought them.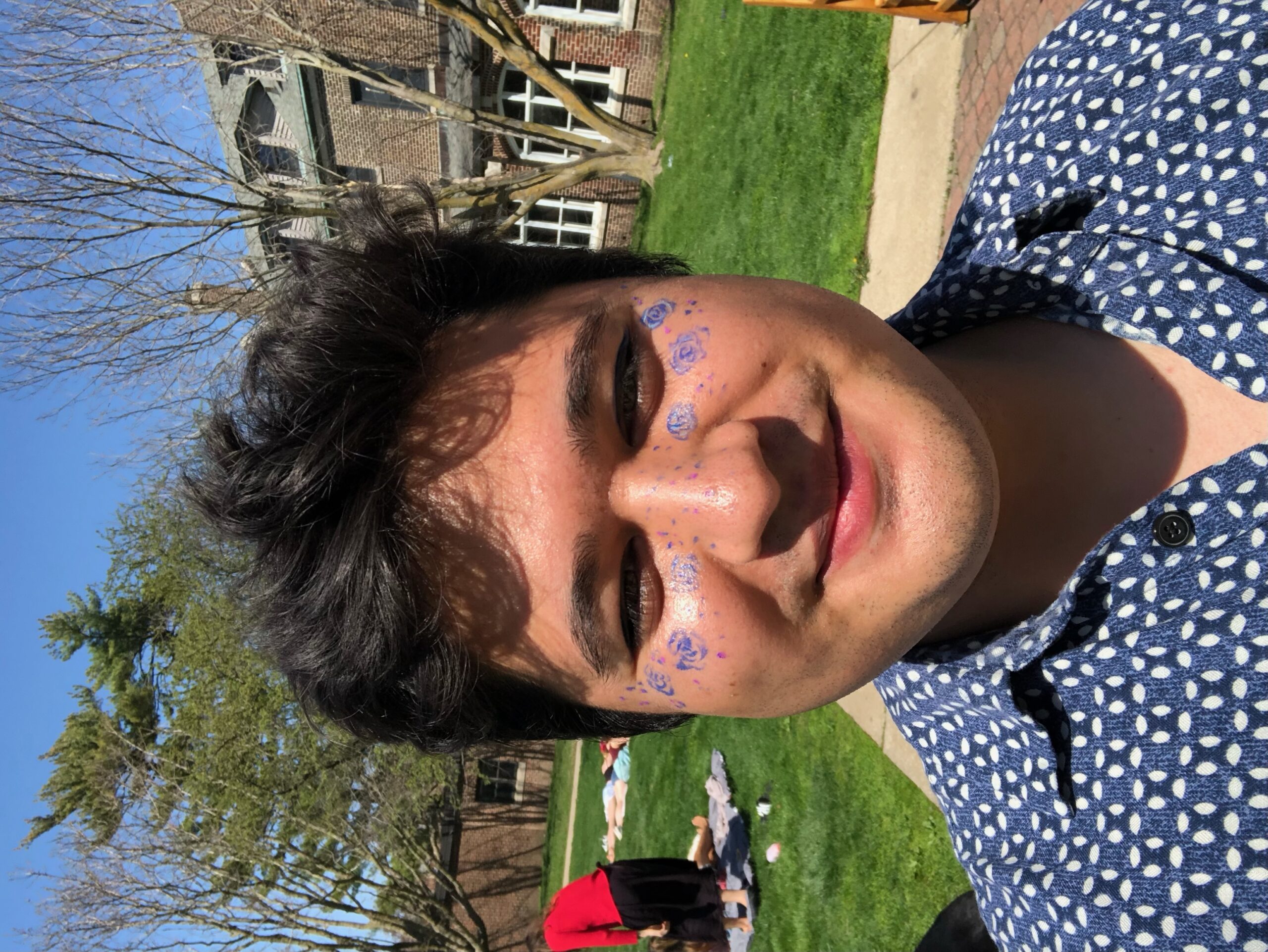 Maggie Donahue
Maggie Donahue has been an avid student of Zimbabwean music since the early 80's when she studied and performed with Shumba, Eugene's first marimba band. It was her good fortune to learn directly from Dumisani Maraire, who is credited with introducing the Northwest to Shona music. His guidance formed the basis of Maggie's teaching style and his encouragement led her to found Kutsinhira Cultural Arts Center, a 501(c)(3) non-profit in 1991. Since then, she has taught marimba to students of all ages, children to elders. Through Kutsinhira's residency program she has continued her study with Cosmas Magaya, Beauler Dyoko, Musekiwa Chingodza and Patience Chaitezvi Munjeri. A particular joy for her is to work with students who love the music but have not had the opportunity to play.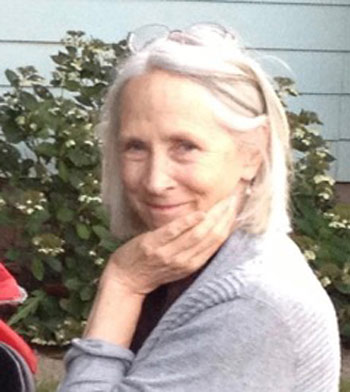 John Mambira
John Mambira is originally from Bulawayo, Zimbabwe and now resides in Eugene with his wife and children. He first came to the United States in 2007 and has taught both children and adults Zimbabwean drumming, dancing, marimba and theater arts in workshops and classes throughout the Pacific Northwest. He is a founding member of the award-winning band Bongo Love, which received the Ethno-Music National Prize in Zimbabwe in 2006.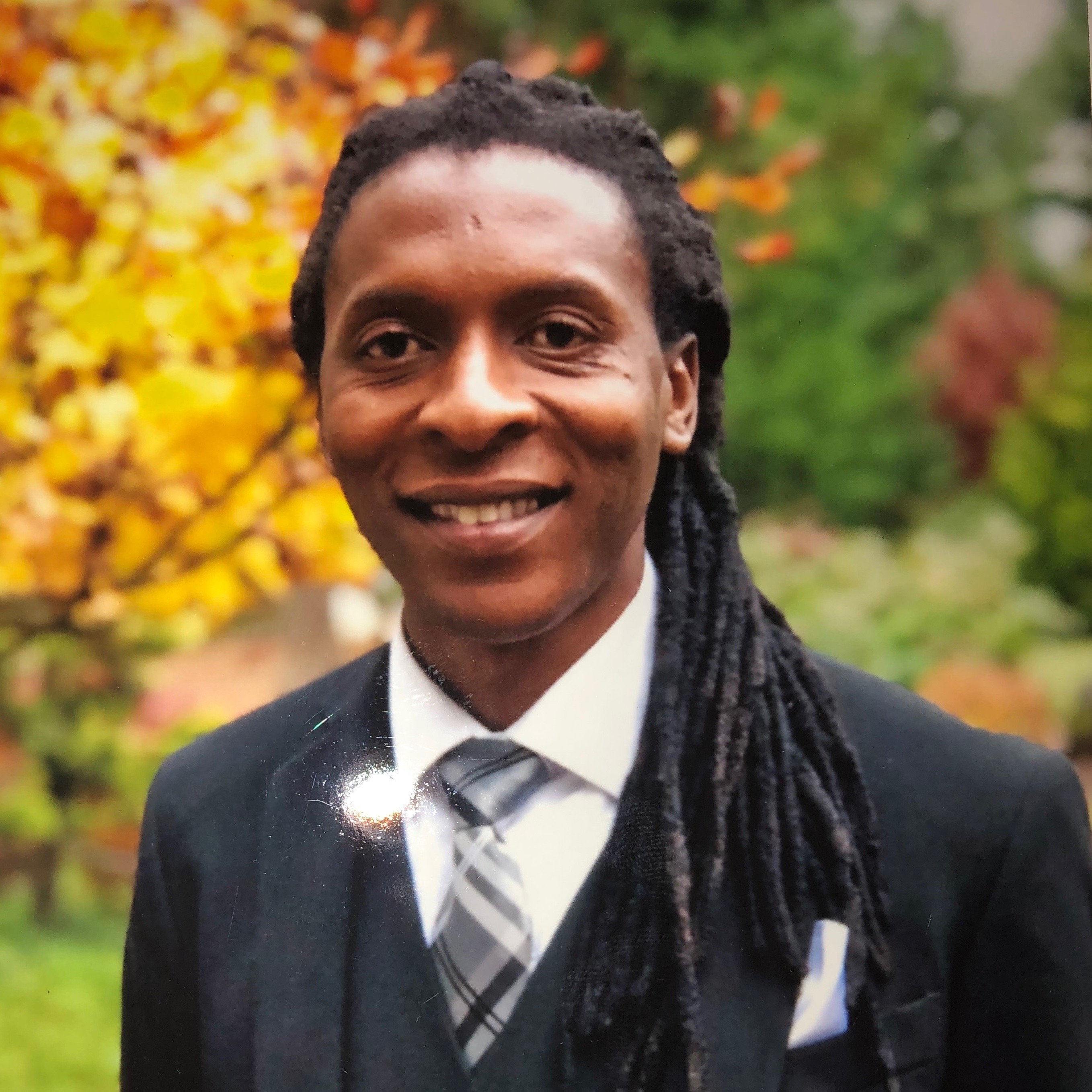 Ratie Dangarembwa
Claire Ratidzo Dangarembwa Morgan, RatieD, is a Zimbabwean singer and songwriter who has a passion for harmonizing. This passion first came alive when she joined Nobuntu, a Zimbabwean all female acapella group which was the first of its kind. Building on this experience, she progressed to expressing her talents in the band Bongo Love, both in live shows and on their self-titled album as a backing vocalist. Ratie has also performed at various festivals, including the Oregon Country Fair, Beloved Festival and Pan African Festival.  Locally she has performed alongside Thomas Mapfumo, Loveness Weza, DeSolution, Eleven Eyes and various artists at Studio 541.  She  teaches choral singing workshops featuring songs in her native languages of Shona and Ndebele. Beautiful harmonies and expressive presentation are highlighted in these workshops, emphasizing the importance of soprano, alto and tenor contributions and giving people the opportunity to learn a new language in a fun communal setting.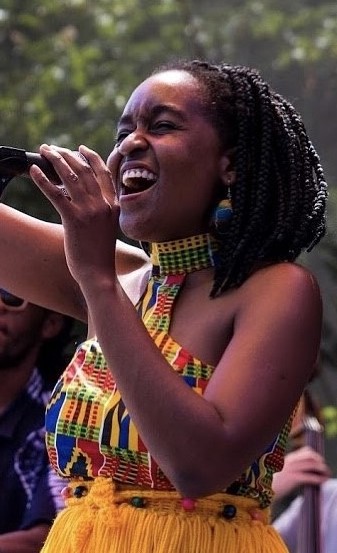 Ambuya Beauler Dyoko
Queen of Mbira
1945 – 2013
Beauler Dyoko was Zimbabwe's first female mbira recording artist. Ambuya Beauler had a vibrant singing style, presence, and warm personality that well represented her culture. She was the leader and featured singer with the popular contemporary mbira ensemble The Black Souls, and she also performed with the Mhuri yekwa Rwizi/Soul of Mbira groups, and with Cosmas Magaya, for many years throughout the world. Ambuya Beauler was also a spirit medium, an herbalist, fashion designer, and teacher of traditional Shona cooking. She promoted women musicians in Zimbabwe and wrote original songs in support of AIDS awareness and non-violence. She was for many years the sole supporter of a large extended family of grandchildren, nieces and nephews in Zimbabwe. Ambuya Dyoko was loved by her many students, friends, and fans of mbira music, and she is deeply missed by us all.
Cosmas Magaya
1953 – 2020
Click here to read Cosmas Magaya's Curriculum Vitae
Kutsinhira was fortunate to work with world renowned gwenyambira (expert mbira player) Cosmas Magaya as our teacher and close friend. We deeply mourn his passing in July 2020 and we honor his memory. 
Cosmas inaugurated Kutsinhira's mbira instruction program beginning in 1998 and he guided and inspired us through subsequent years.  Through his gentle and deep approach, we learned much about this sacred music and related cultural practices. He was Kutsinhira's original Artist in Residence, and the doorway through whom we have enjoyed friendships and collaborations with many other Zimbabweans. 
Born in Zimbabwe in 1953, Cosmas Magaya grew up in the rural area of Mhondoro. His father, Joshua Magaya, was a highly esteemed n'anga (healer), and a farmer who was noted for his enlightened farming practices.
Cosmas first became interested in mbira at the age of eight and begged his older mbira-playing cousin, Ernest Chivanga, to teach him how to play. However, because of his youth, he wasn't taken seriously and wasn't allowed to touch the cousin's mbira. At every opportunity, Cosmas would "borrow" the mbira and, out of hearing, try to pick out what he could remember from his cousin's playing. On one momentous occasion, after he had been practicing secretly for many months, Cosmas played mbira for his family. They were astonished that he had taught himself to play and his cousin began to teach him more songs. The two were hired to play frequently for Shona religious ceremonies called bira, and Cosmas developed a reputation as a strong mbira player whose playing could call the ancestral spirits.
He was quite small for his age and played the mbira inside a huge deze (calabash). The image of this young boy, all but hidden by the calabash, with just his small legs sticking out, was one that greatly amused his audiences.
Throughout his youth, Cosmas sought out opportunities to expand his mbira song and stylistic repertoire from both elder teachers and his age group peers. In addition to his mbira studies, he completed his formal schooling and went on to study business at the Community College Business School in Salisbury. Cosmas spent many years working for the sales and promotion division of the Dairy Marketing Board as a sales representative and manager.
As his music career developed, he joined Hakurotwi Mude's ensemble Mhuri yekwaRwizi and made two European tours in 1983 and 1985. Later he performed with his family group, Mhuri yekwaMagaya, which included his son Mudavanhu. Touring the US and Canada many times as Kutsinhira's Artist in Residence, Cosmas gained loyal following of many mbira students throughout the United States and Canada,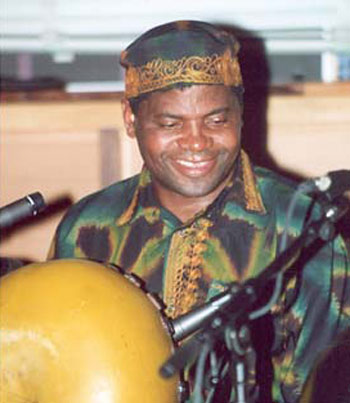 Dumisani Maraire
1944 – 1999
Abraham Dumisani Maraire, known to friends as "Dumi", was a master performer of the mbira, a traditional instrument of the Shona ethnic group of Zimbabwe. He specialized in the form of mbira called nyunga nyunga, as well as the Zimbabwean marimba. He introduced Zimbabwean music to North America, initiating a flourishing of Zimbabwean music in the Pacific Northwest that continues into the 21st century.
Dumi is credited for his famous 1–15 number notation used on the nyunga nyunga mbira and for notating the song "Chemutengure" on the nyunga nyunga mbira. The song "Chemutengure" is used to teach mbira learners the technique of playing the instrument.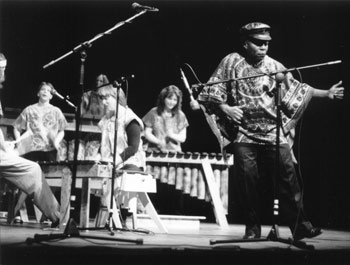 Dr. Dumisani Abraham Maraire, performing with Musasa Marimba on Sunday 20 March 1994 at the San Juan Community Theatre in Friday Harbor, Washington, USA. Photo by Paul Novitski.
Musekiwa Chingodza
Musekiwa Chingodza was born into a family of great mbira players in Mwangara village, Murewa, Zimbabwe, in 1970. He began playing mbira at the age of five and is self-taught. Through listening to other gwenyambira, or great mbira players, he developed a strong attachment to and love for mbira music. He says, "Our music is both medicine and food, as mbira has the power to heal and to provide for people. Mbira pleases both the living and the dead." In 1991 Musekiwa was a key member of the band Panjea, founded by Chris Berry, and composed the hit song "Ganda" on Panjea's Zimbabwean album. Musekiwa previously taught mbira at Prince Edward School in Harare for many years, and continues to be in demand to play mbira at ceremonies in Zimbabwe. He is an excellent singer, dancer and drummer and plays both mbira dzavadzimu and nyunga nyunga. Following up on his widely acclaimed CD with Jennifer Kyker, entitled Tsunga, Musekiwa released his CD VaChingodza Budai Pachena; his solo CD, Kutema Musasa (2005); a second collaboration with Jennifer Kyker, Muronda Tsimba (2009); and his latest CD (with Bud Cohen), Tomutenda Mambo (2011).
Musekiwa is also an accomplished ngoma (drum) player in the Shona tradition, and he excels in playing hosho (gourd shakers), singing, and traditional dance. He is very experienced at teaching all of these skills to North Americans in a friendly and supportive way. Musekiwa has enjoyed many successful North American tours, often accompanied by his friend and mbira partner Bud Cohen.
With his engaging personality, gentle teaching style, virtuosic mbira playing ability, and deep immersion in his culture, Musekiwa is almost always asked to come back for repeat visits.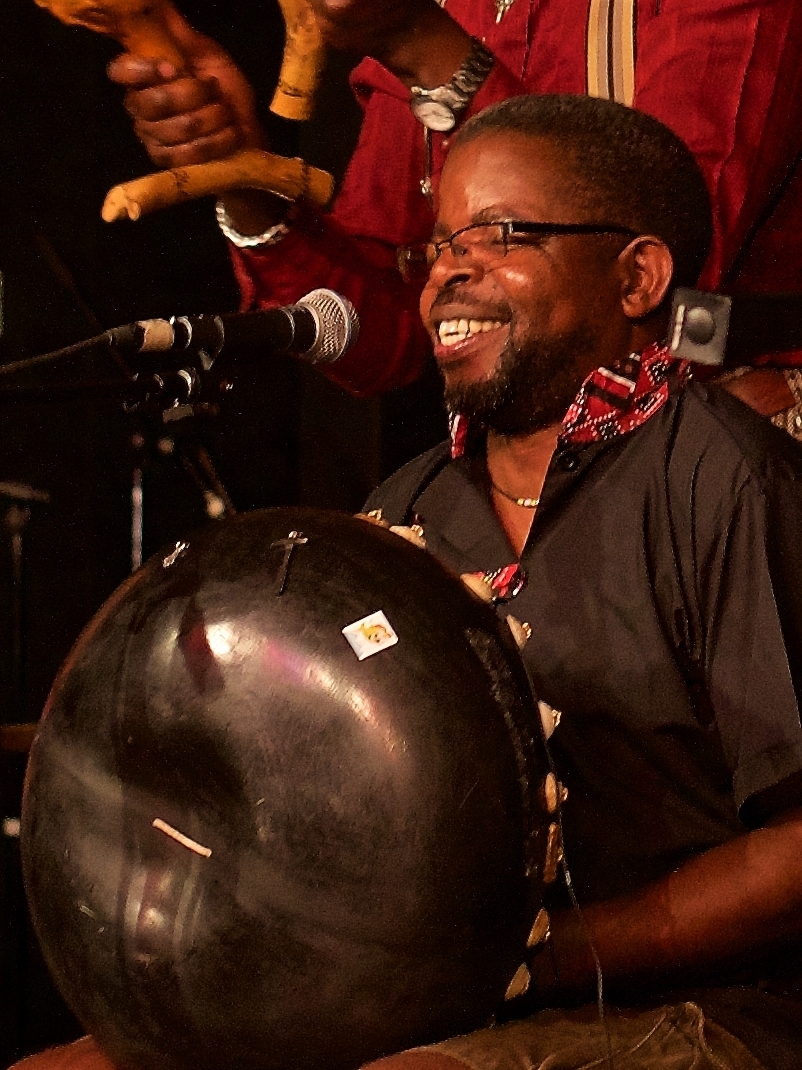 Patience Munjeri
Patience Munjeri, one of Zimbabwe's rare women mbira players, has played in traditional ceremonies since she was very young.   Because her mother is a traditional healer and medium and her brothers also played mbira for the spirits, Patience grew up immersed in mbira music and deep Shona culture. She has earned a university degree and communicates very well in English.
Six successful tours through the US and Canada (2008, 2009, 2011, 2013, 2015 and 2017) confirm Patience's ability to convey musical as well as cultural content to her students. Patience takes her teaching role seriously; patient and precise, she brings energy and authenticity to all her classes and performances.
Patience has proven her consistently proven her extraordinary ability to teach:
Mbira
Drumming
Hosho (shakers)
Traditional dance
Singing
Choral Singing
University and public lecture/demonstrations
Shona cultural presentations
Shona cooking classes
After each tour she returns to her family in Chinhoyi, Zimbabwe.  Recently retired from 20+ years as a high school teacher, Patience currently offers free mbira lessons to anyone in her community, while running a taxi service to make ends meet.  Her dream is to open her own small college.
Patience has also organized several successful music camps in Zimbabwe, bringing together international students with herself and four other excellent Zimbabwean music teachers at Kufunda Village Learning Centre.  This camp also sponsors several young Zimbabwean women students each time.