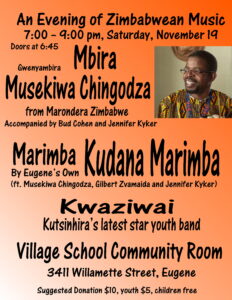 Kutsinhira is pleased to announce a wonderful evening of mbira and marimba music in support of our 2022 Artist-in-Residence Musekiwa Chingodza. Musekiwa and friends Bud Cohen and Jennifer Kyker will headline plus marimba music from Kudana Marimba and Kutsinhira's teen ensemble Kwaziwai.
Saturday, Nov. 19 
7:00 – 9:00 pm
Village School, 3411 Willamette Street
Suggested donation $10, youth $5, children free
*Parking at the Village School is very limited. Please park in the surrounding blocks.